AGU Sustainability Goals
AGU has been prepared the Strategic Plan in accordance with as declared in Article 9 of the "Public Financial Management and Control Law" numbered 5018 "Public Administrations prepare a strategic plan with participatory methods in order to create their mission and vision for the future within the framework of development plans, programs, relevant legislation and the basic principles they have adopted, and to determine strategic goals and measurable targets, and to measure their performance in line with predetermined indicators, and to monitor and evaluate this process" and with a relative understanding according to the template determined by the "Practical Guide to Strategic Planning in Higher Education".
The 2017-2021 AGU Strategic Plan preparation sub-working groups of our university were formed and participation was ensured at the level of faculties and presidencies. Meetings were held with both internal and external stakeholders and their opinions were received. The views of the stakeholders were analyzed and presented to the strategic planning commission by the sub-working groups. The Strategic Planning Commission prepared the 2017-2021 AGU Strategic Plan as a result of the work of the sub-working groups and the feedback from external stakeholders.
In this report, actions for both strategic goals and their implementation have been determined. AGU carries out all its activities according to this plan. This Strategic Plan is a roadmap of the challenging and important steps that we have taken and will take to achieve the SDGs and increase climate action with objectives that it contains. Each action forms a framework of our implementation efforts in this field. The Aim-Goal-Action in our Strategic Plan which is our roadmap that leads us to achieve SDGs is shown below.
AGU Climate Action Plan
In accordance with goals, our climate action that is determined by both our internal and external stakeholder is shown below.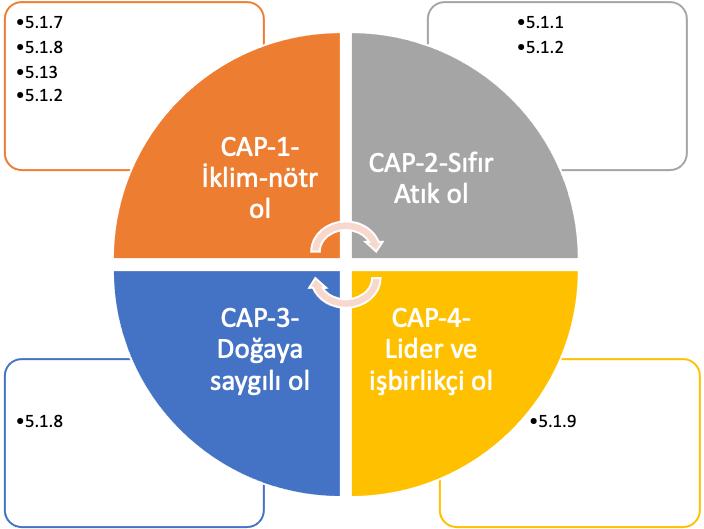 CAP-1- Be Climate Neutral
AGU has been calculating its environmental footprint since 2019 in accordance with the actions in its Strategic Plan and publishing it every year. In this context, in compliance with our country's adopted strategy and goals, AGU, as a state University, aims;
To reduce greenhouse gas emissions by 21% per capita by 2030,
To be a carbon-neutral University by 2040,
To raise students who are aware and conscious about climate change,
To create awareness in the institutions where its graduates work and to have a wider impact on reducing greenhouse gas emissions.
Our achievements:
Despite the 30% increase in the number of academic staff, administrative staff, and students of AGU, AGU's carbon footprint decreased by 1.2% in the total amount of emissions and by 23.8% in the amount of emissions per capita in 2019 compared to the base year of 2018. Click for the 2019 Carbon Footprint Report.
Despite the 67% increase in the number of academic staff, administrative staff, and students, AGU's carbon footprint decreased by 45.1% in total emission and by 67.3% in per capita emission in 2020 compared to the base year of 2018. It should be taken into account that one of the biggest reasons for such a significant reduction, together with the work done by AGU in this area, is the lockdown due to Covid-19. Click for 2020 Carbon Footprint Report
AGU received the LEED Silver Certification from the United States Green Building Council(USGBC). The 13,823 m2 Administrative and Education Building which was newly constructed on the University's Campus of 320,000 square meters, ranked 21 out of 26 in Sustainable Land Selection, 6 out of 10 in Water Efficiency, 28 out of 35 in Energy and Atmosphere evaluation, as a result of USGBC evaluations. It scored 4 out of 6, 3 out of 4 in Regional Loans, and 5 out of 15 in the assessment of Interior Quality and collected a total of 51 points.
CAP-2- Zero Waste
As one of the first universities to adopt a waste management philosophy, which includes the prevention of waste, the more efficient use of resources, the prevention or minimization of waste generation by reviewing the causes of waste generation, and the collection and recycling of waste separately at the source, we have demonstrated the importance of this field for us.
Our achievements:
AGU identified the need to establish a Waste Management Committee in its 2017-2021 Strategic Plan (5.1). AGU Waste Management Committee was established in 2019 to monitor and improve the processes related to the disposal of wastes and especially hazardous wastes.
AGU, a Waste Management Committee in its 2017-2021 Strategic Plan, has issued a Zero Waste Regulation in 2019 by the Turkish Ministry of Environment regarding waste minimization in our country. In addition, the "Zero Waste" project was initiated under the coordination of the Ministry of Environment. We participated in the project through the Waste Management Committee and in 2019, we implemented zero-waste procedures at the university and were entitled to receive a zero-waste certificate in 2020. As of now, AGU is the first and only university in Kayseri to receive a zero-waste certificate.
CAP-3- Be Respectful to the Nature
The entire Sümer Campus is a renovated and preserved historical heritage site from the SümerBank Kayseri textile factory (1st industrial site in Turkey), which plays an important role in Turkey's economic and industrial development. It traces the history of the SümerBank factory with its 80-year-old original trees, cafes, and Abdullah Gül Museum and Library located in the original factory buildings. For this reason, AGU's respect for nature and green is inspired by the depths of history.
Our achievements:
Pioneering the heritage restoration works on the campus, AGU continues to work meticulously while carrying out this transformation, without harming nature.
CAP-4- Become a Leader and Collaborator
To foster the transition to a climate-friendly culture, AGU plays a unique role as a global leader in sustainability and a center for technological innovation and research. With this leadership awareness, we dedicate ourselves to training, research, awareness-raising, and cooperation in this field in the local, national and international arena.
Our achievements:
AGU has been directly involved in the following local, national, and international SDG policy development through the following activities:
In cooperation with the United Nations (UNDP), T.C. Ministry of Science, Industry, and Technology, Kayseri Chamber of Industry, and Kayseri Chamber of Commerce, AGU established a Model Factory in the Sumer Campus.
AGU has become a leading member of the Municipality's ongoing project "Kayseri 2050".
AGU is an official knowledge partner of GSI (a global joint venture to propose policy responses to major global challenges being addressed by the G20).
AGU partnered with the United Nations as part of the UN75 campaign (UN 75th anniversary). This project is a series of events and panel sessions that bring AGU students, staff, and stakeholders together to discuss the different United Nations Global Challenges and Sustainable Development Goals (SDGs) as well as formulate forecasts and recommendations for 2045, which will celebrate the UN's 100th anniversary.
With the cooperation of Abdullah Gül University Technology Transfer Office and Model Factory, Sustainable Development Goals are constantly informed to the employees of the company who receive training at the Model Factory. In this direction, at the meeting held on 17.08.2021, the Abdullah Gül University Technology Transfer Office presented the 17 Sustainable Development Goals of the United Nations, the activities carried out in this context at Abdullah Gül University, the activities that can be done in companies, and the partnerships to be established on the subject of Sustainability throughout the city.
AGU Youth Factory and AGU Career Center presented the Sustainable Development Goals to Kayseri Ted Kayseri College students on 01.06.2021 with the participation of the United Nations Resident Office and the United Nations High Commissioner for Refugees.
Abdullah Gül University was also involved in the "Race to Zero" campaign, which was carried out jointly with UNEP, Second Nature, and EAUC. This campaign is a global initiative for zero carbon emissions that universities from all over the world can participate in. For this program, in which 832 institutions from different parts of the world participate, universities are expected to create a strategy and plan for "zero carbon emission" targets in the future. With this program, a healthy and zero carbon emission improvement is aimed, which prevents threats to the future, provides decent job opportunities, and paves the way for inclusive sustainable development.